Products >RAP Asphalt Reclaimed Material Crushing and Screening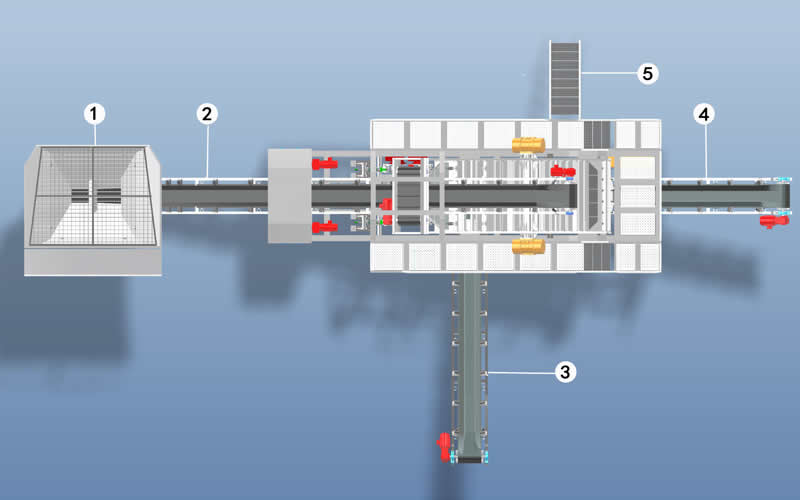 ①Primary Grain Machine ②Feeding Belt Conveyor ③Unloading Belt Conveyor 1#
④Unloading Belt Conveyor 2# ⑤Equipment Framework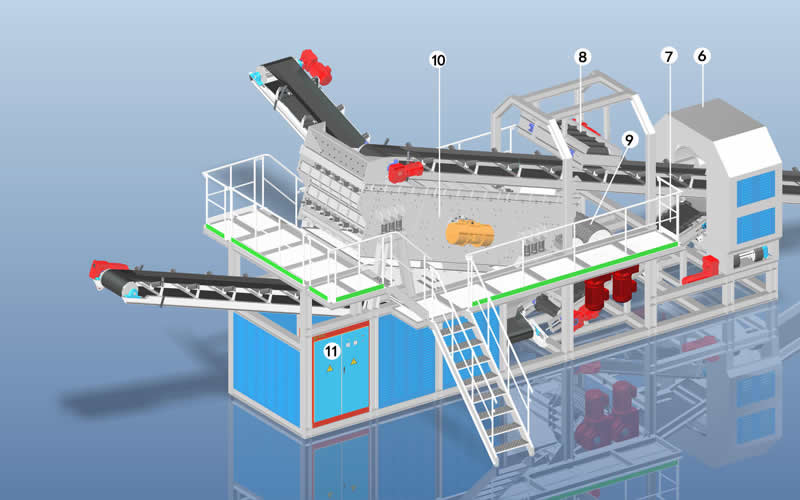 ⑥Oversize Particle Recycling Unit ⑦Return Belt Conveyor ⑧Iron Remover Belt Conveyor
⑨Secondary Particle Machine ⑩Vibrating Screening Machine ⑪Control System
Product introduction:
R100-RAP Roller crushing and screening equipment is a brand-new special crushing and screening product developed by RWM Machinery based on its own design experience of hot mixing and regeneration equipment in asphalt plant for many years and combined with the particularity of abroad RAP material.
Model: R100
Whole power: 121 kw
Rated production capacity: 100t/h
Maximum feed size: 800mm
Discharge particle size: 0-30mm
Roller crushing screening technology has the following advantages:
1. The single roll crusher adopts the protective plate made of wear-resistant material to protect the standard cutter head, which has strong crushing ability, good wear resistance, convenient replacement and prolongs the service life of the equipment.;
2. Low speed spindle can effectively reduce dust emission;
3. Floating twin-roll crushing can effectively prevent large RAP material from causing instantaneous equipment failure;
4. Interlaced wear-resistant tooth plate, effective crushing of RAP without sticking;
5. High frequency vibrating screen combined with anti-blocking screen technology can effectively solve the problem of fine aggregate adhering screen.
Working Principle of Roller Crushing and Screening:
The crushing and screening system is to screen RAP materials from mechanical digging and recovery or milling according to specifications,material is fed into secondary crusher for crushing and rescreen's plant.
For super large RAP material, put into the first crusher for crushing, than into cold storage bin; RAP Material for Milling Machine, It can be fed directly from the cold storage bin, enter the vibrating screen for screening. ;
Screening into two or more finished products, the ultra-standard RAP material is crushed by two-stage roll crushing, and is fed into the vibrating screen through the belt until it is crushed into qualified RAP material.

1. Spiral crushing roll and hydraulic push device can effectively crush large RAP materials.
2. Standard crushing tool head, good wear resistance, easy to replace;
3. The spring tensioning device after the broken shaft can prevent the instantaneous equipment failure caused by too large RAP material.
1. Separate cold storage bin to ensure effective volume and facilitate transportation;
2. The upper grid of the warehouse, maintenance-free vibration motor drives, eliminates excessive material, prevents material clogging;
3. Special warehouse structure, effectively prevent material arching.
1. Linear screen driven by double vibration motor, maintenance-free design. Screen tension before and after, easy maintenance and replacement;
2. High frequency vibrating screen, combined with anti-blocking screen technology, can effectively solve the adhesion of fine aggregate.
Twin-roll two-stage crusher
1. Double-roll two-stage crusher and floating crushing roller can not only adjust the size of discharged material, but also effectively protect the instantaneous equipment failure caused by too large RAP material.
2. Interlaced high wear-resisting gear plate can effectively crush super-standard RAP materials.